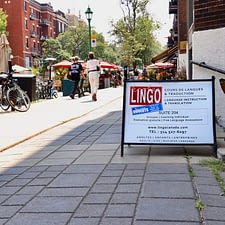 Working with Lingo
Efficient – Responsive – Ethical – Creative
Lingo Translators
A Dynamic Collective of Language Professionals
At Lingo, our translators take into account the underlying messages, target audience, cultural elements, company image or personal style of the writer, and are expected to work collaboratively with clients to help establish brand image and offer vocabulary choices. We like to develop long-term relationships in order to provide our clients with stability and to acquire an in-depth understanding of their operations and corporate language.
We accept applications at anytime. Project-based independent contractors welcome! Native-speaker level only. French-English-Spanish.
---
Current Openings:
Senior English-to-French Translator (independent worker). 4-8 years of experience in French writing, editing and translation. Self-revising, excellent research skills, writerly style, jobs include corporate translation, academic texts, product descriptions as well as sales, copywriting and slogans. Multiple domains including HR, transportation, social science articles, health, wine and spirits, corporate announcements, marketing and sales, business development, manufacturing, the arts, and more.
---
Applications:
Apply to Head of Translation: Danielle O'Brien danielle@lingocanada.com (+1) 514-967-6097
Please include a C.V. along with some translation excerpts and writing samples that might showcase your diverse skills.