The Lingo Corporate Team
Efficient – Responsive – Ethical – Creative
Looking for a personalized service to suit your business realities? We pride ourselves on being efficient, responsive, ethical and creative in our approach to every client. Going the extra mile is our day-to-day! Call us for a chat!
Corporate Head Office (Large-Scale Corporate Enrolment)
10+ students
Multi-site
Multi-language
Call Danielle for an initial assessment of your needs and a referral to the appropriate product managers or independent operators. (+1) 514-967-6097 info@lingocanada.com
For single-site, single-language and smaller-scale sessions, the product managers below will be happy to help!

English and Spanish Corporate Language Training (10 students or less)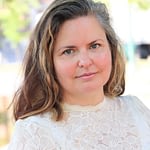 Danielle O'Brien, English Director, Head English Teacher & Lingo Founder
(+1) 514-967-6097 danielle@lingocanada.com LinkedIn
French Corporate Language Training* (10 students or less)
Annie Laberge, French Director, Head French Teacher & Authorized Independent Operator of Lingo French
(+1) 514-885-3887 annie@lingocanada.com LinkedIn
*Authorized independent operator
Oversight, Troubleshooting & Complaints
Teaching Approach and Content: Our programs are fully customizable. Should you have any issues with instruction or teaching approach, we will be happy to hear your concerns and adjust as needed. Please share any suggestions to help us better suit your needs.
A Change in Circumstances: Unforeseeable events arise! Sessions are non-refundable, however hours are transferable to other people or other products. The block of hours purchased has a one-year expiry, which should leave ample flexibility to complete the hours in one way or another! Please consult with your Program Director immediately if any difficulties with completion arise, for immediate attention and to provide you with plenty of options and solutions to keep things on track or convert the hours.
Session Management: Regarding overall session management, please be honest and let us know about anything that would better facilitate session administration or if you are not totally satisfied with how your file has been handled. Your program directors remain available to resolve any problems or answer any questions (educational, administrative, logistical, financial). Don't be shy, we're always open to hearing your comments and we value your insights!
First line of communication: Refer to your course plan for Program Director, or if unsure contact the head office above.
Second line of communication: Contact Danielle at the head office (see above).
Translation
Meet the Translation Team Find Out More About Lingo Translation Submit a Job
Become a Lingo Operator?
Part-time & full-time opportunities – Read more here.
I am ready for this!
Book a Meeting
Ready to book a test, consultation or find out more?
Private, families & corporate clients:
Share your story with us. Let us customize a solution for you.
*authorized independent operators