Why Work with Lingo ?
Efficient – Responsive – Ethical – Creative
A One-Stop Shop for Language Services
With a product line ranging from classic in-person training to specialized workshops, coaching, audio lessons, immersion programs, online classes, along with a translation service, testing products, education management consulting, and procedural support – Lingo is a one-stop shop for all your language needs.
Free Registration Tests. Free Inclusions.
The majority of our placement tests are offered FREE of CHARGE with no obligation to ensure that your staff's needs are fully assessed and met with targeted learning solutions. All-inclusive rates to please your budget! Lingo's Classic Service includes free placement tests, support tools for students, custom-made learning materials and regular reporting to HR.
No hidden enrolment fees, material fees or placement test fees to worry about.
100% Customized to Meet Your Objectives
Lingo is a creative language school dedicated to providing customized learning experiences. Whether your business seeks experimental or traditional approaches, interactive conversation or formal academic programs – we've got you covered. Versatility and adaptability are our top qualities; with various location options, a multitude of class formats, flex schedules, personalized materials and programs, we can deliver a true made-to-measure experience adapted to suit your industry needs.
A Team of Dynamic Language Professionals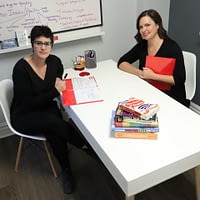 A committed team of dynamic coaches, instructors and consultants will ensure your satisfaction. Our teachers use a range of different approaches to suit individual client needs and learning styles.
Meet a few of our coaches, consultants and teachers!
Specialized Coaching Options
Benefit from specialized master classes adapted to busy professionals, business travellers or individuals with highly specific training needs. Beyond our classic balanced programs, our Lingo Plus line of products provides for added flexibility, targeted coaching or greater educational support. All Lingo Plus courses are taught by advanced language specialists or accomplished senior teachers. Let us help you in areas such as Presentation Coaching, Pronunciation & Accent Training, Specialized Professional Language, Mixed Levels, Relocation Support (TEFaQ +), Unblocking, Exam Preparation, Professional Communications, Audio Lessons, and more!
International Access
Whether you're travelling for business, managing multiple sites, situated in a remote location, or just looking for specialized services, our in-person or distance services can follow you worldwide. Lingo is available locally (Montreal & suburbs), regionally (throughout Quebec), nationally (throughout Canada) and internationally (Australia, US, Europe, Central & South America, and more…).
Each location upon request (subject to availability and volume; custom rates may apply) – just ask!
The Highest Quality Standards
Unlike your run-of-the-mill language schools, we strive to dig deeper; we recognize the importance of fully exploring nuances and subtleties in intercultural communication and learner profiles. Our Lingo Classic Service includes in-depth testing, student support tools and rigourous quality follow-ups. Our relationships with HR and students are subject to the highest professional standards, as we take each individual's needs to heart. At Lingo, results are important to us – we deliver what we promise, and can proudly boast satisfied students and 90% return customers.
Administrative Support for HR and Training Coordinators
We are seasoned education management professionals and pride ourselves on being reliable, supportive and efficient partners. We're happy to lighten your load! Pick and choose from whatever options you need to optimize your language
Documentation & Reporting Support (forms, listings, satisfaction surveys, communications)
Motivation & Events (recognition programs, immersion & exchange events, buzz creation, prizes)
Consulting (budgeting, cost-effectiveness studies, education systems, results, progress)
Fees apply.
Claimable Expense
Quebec – Larger Businesses: If you are subject to following the requirements of the Loi sur les compétences (1%), you can likely claim our fees as an eligible training expense. See your Lingo representative for further information pertinent to your case.
Quebec – SMB, Freelancers, Commission-based employees, among others: If you take language courses as part of your business development strategy or to support existing business operations, our language courses can generally be claimed as a regular business operating expense. Please consult a qualified accountant or the appropriate gouvernment agency for further information pertinent to your case.
The information on this page is updated periodically. Lingo is not responsible for any changes in tax claim laws since time of publication.
I am ready for this!
Book a Meeting
Ready to book a test, consultation or find out more?
Private, families & corporate clients:
Share your story with us. Let us customize a solution for you.
*authorized independent operators