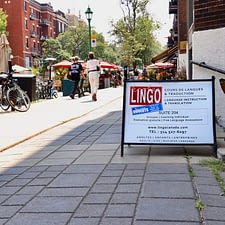 Working with Lingo
Efficient – Responsive – Ethical – Creative
Lingo Language Coaches
A Dynamic Collective of Language Professionals
Proudly serving Montreal and clients worldwide since 2003…
Since its beginnings, Lingo has evolved into a collective of language specialists in the fields of education, translation, language coaching and communication. Our multidisciplinary team draws on a range of backgrounds and experience in connected fields such as psychology, social work, vocal exercises, public speaking, NLP, linguistics, business management, research, sports coaching, communications and translation to optimize the client experience and deliver results. Lingo offers balanced programs targeting all second language skills, but also specialized programs, such as pronunciation coaching, "unblocking" sessions, "grammar clean-up" programs, business writing workshops, among others.
We accept spontaneous applications at all times.
Hiring Criteria:
· Aptitudes or experience in teaching, coaching, instruction, or planning
· Dynamic and motivating personality who strives to help and reassure people
· Goal-oriented focus, solid organizational skills, great adaptability
· Background or experience in customer service, sales or business
· Knowledge of several languages and cultures
· Experience with immigration or immigrating
---
Current Openings:
Experienced ESL Coach (3-10 hrs per week; freelance contracts) Fall 2022 session – apply by Summer 2022. Teaching an assortment of one-hour to three-hour English classes to a wide range of adult professionals from beginner through advanced levels in both formal and informal instructional styles, in person (at Lingo Outremont or client locations) and online (Skype, Teams, Zoom, phone). Must have experience in ESL with some specialization or heightened interest in pronunciation, evaluation, communications or translation. Decent French communication skills required in order to interact with clientele and team.
---
Applications:
English teachers: Danielle O'Brien danielle@lingocanada.com (+1) 514-967-6097
French teachers: Annie Laberge annie@lingocanada.com (+1) 514-885-3887
Other languages: Danielle O'Brien danielle@lingocanada.com (+1) 514-967-6097
Meet a few of Lingo's long-standing teachers, coaches and support staff here…